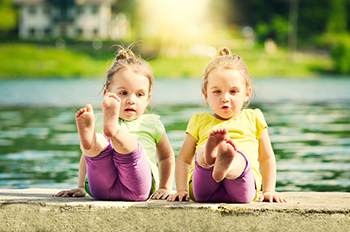 Cellulitis is a non-contagious infection that affects the tissue underneath the skin and can impact any part of the body. It usually starts in areas where the skin has been broken in some way, however, people who have immunodeficiencies can sometimes develop cellulitis in skin that has not been broken. Although various forms of bacteria can cause cellulitis, group A streptococcus and Staphylococcus aureus are the most common. It is important to try to prevent cuts and scrapes in your child's skin which may be difficult if they play a sport or are otherwise physically active. Protective gear such as elbow and knee pads, shin guards, and bike helmets, can help your child from breaking their skin. If they go on a hike, have them wear a long-sleeved shirt and long pants, and sandals on the beach. Call a podiatrist if you see areas on your child's feet that are red, warm, swollen, and tender. Additional warning signs include fever, chills/sweats, or swollen lymph nodes near the affected area. Your child's podiatrist may need to take a blood sample to make sure the infection has not spread into your child's bloodstream.
The health of a child's feet is vital to their overall well-being. If you have any questions regarding foot health, contact one of our podiatrists of Biebel & DeCotiis Podiatry Associates. Our doctors can provide the care you need to keep you pain-free and on your feet.
Tips for Keeping Children's Feet Healthy
Make sure their shoes fit properly
Look for any signs of in-toeing or out-toeing
Check to see if they have Clubfoot (condition that affects your child's foot and ankle, twisting the heel and toes inward) which is one of the most common nonmajor birth defects.
Lightly cover your baby's feet (Tight covers may keep your baby from moving their feet freely, and could prevent normal development)
Allow your toddler to go shoeless (Shoes can be restricting for a young child's foot)
Cut toenails straight across to avoid ingrown toenails
Keep your child's foot clean and dry
Cover cuts and scrapes. Wash any scratches with soap and water and cover them with a bandage until they've healed.
If you have any questions, please feel free to contact one of our offices located in Holmdel and Middletown, NJ . We offer the newest diagnostic and treatment technologies for all your foot care needs.
Read more about How to Care for Your Child's Feet